Kasey at
All That is Good
is once again hosting Friend Makin Monday. This week's theme:
Today's task is to share as few or as many everyday, little tips that you use to make your lives easier. You know- all those special tricks you might have to cook, clean, raise kids, work in the yard, and on and on!
1. I use a binder divided into months to organize all of my incoming and outgoing mail, bills and other household paperwork. Read more about that system here.
2. I keep many of my boys toys in plastic tubs and bins so they are easily accessible and easily cleaned up.

3. I pre-sort my laundry will color coded and labeled laundry baskets. This system I started using about 3 months ago saves me an unbelievable amount of time on laundry days.
4. I precook and freeze meals to be used when needed. I will either spend a day in the kitchen making and storing meals or I will double a recipe and freeze the remainder when I'm cooking. In this pic, other than the pizzas and fudgecicles (wish I had one of those now!) everything you see is a meal ready to be heated to eat or meals that I can complete cooking.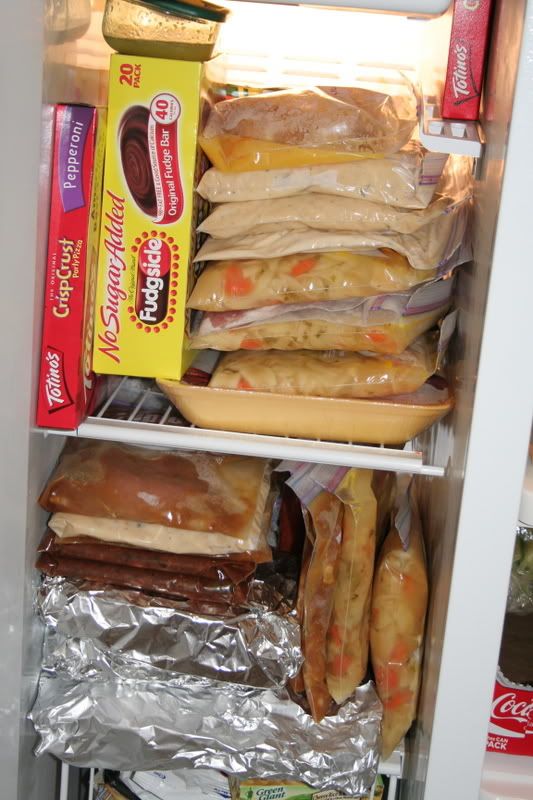 5. I keep a stocked and organized pantry in Tupperware containers. It's so much easier to throw together a meal when you have everything you need in front of you.
6. I organize my boys shoes on hangers in their closet. They always know where their shoes are and they are on the bottom rack so they can reach them their selves.
7. I keep all of my boys art projects in a binder so they stay in good shape and organized until...
They are added into his art scrapbook.
8. An organized
shopping list
is my best friend on shopping day. I can get what I came for and avoid so many of those impulse buys.