Samuel's Room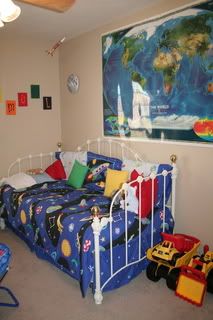 When we moved Samuel from his baby room to his big boy room, I had planned to do planes, trains and automobiles. He however quickly told me he wanted outer space. The bedding is from Olive Kids and the room really turned out cute!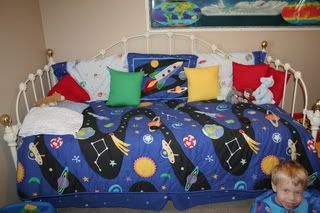 The bed is actually mine from my teenage years and was already in the room. We were unsure at the time if we would be possibly getting bunk beds or matching twin beds at some point for the boys, so we decided just to use the bed for the time being. It has a trundle which is really great for when we need it.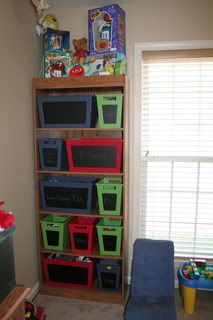 The bookcase was already in the room too and I decided to use it rather than buying a new chest. After looking around, I found these great boxes at Target that fit well into the shelf and the colors work great with the bedding.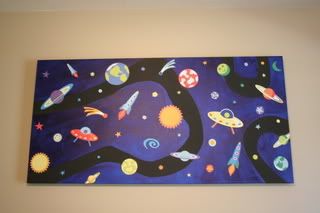 For artwork, I bought wall paper clings that matched the bedding. I bought a large canvas and painted it blue with black swirls to match the bedding and then adhered the shapes to the canvas. It turned out great.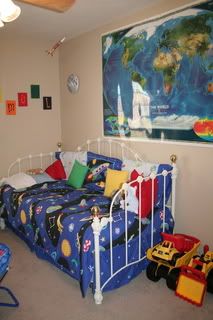 The large satellite map was also already in the room and we left it since it worked so well with the outer space theme. This picture was taken a while back and there are also now glow in the dark planets hanging from the ceiling above his bed.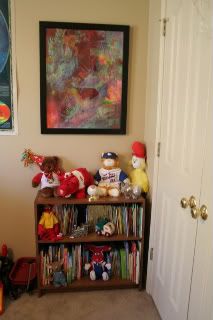 This is a multi-media piece I did in high school and knew then that one day I would hang it in my little boys room. If you look carefully, you can pick out more than 2 dozen animals in the painting.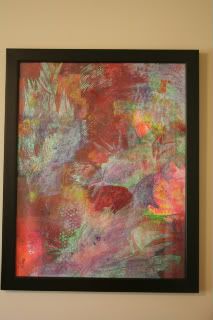 Samuel's art work board.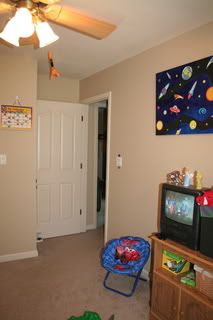 Tyler's Room
The nursery has been basically the same for both boys. I have added a couple things and moved some things around. For the first 9 months or so we had the daybed in the nursery with matching bedding which came in handy many nights. But when Samuel got bigger, he needed more room to play so we moved it out.
The Changing Table I found at Wal-Mart and it has been great for the extra storage.
This cube shelf and canvas drawers I got at Target. I've thought about adding another set.
The rocking chair tends to move in and out of the room. It has lived in the living room and then been moved back to the nursery. Right now I still rock Tyler to sleep often, so we've left it in the room, but as he gets bigger it will move back to the living room.
My brother in law got Samuel the picture in the middle when he was a baby. The top left and bottom right pictures are Samuel and the bottom left and top right are Tyler, both taken at 2 months in the same Razorback outfits with their hog.
The bedding I made myself while pregnant with Samuel. I patterned it after a Pottery Barn style that was so popular 5 years ago. I thought about changing it for Tyler, but I was so busy doing Samuel's big boy room while pregnant, I decided just to keep it the same.
The frame on the left is the boys hospital pictures. I love that they are side by side and people always like looking and seeing if they think they looked alike at birth.
The border was a labor of love. I actually started it about 2 years before we ever decided to have children. I found books and coloring books with different story book and cartoon characters and drew them onto the border using a light box. Then I colored and shaded each with color pencils. Then I outlined and detailed each in with a fine point Sharpie. I'm honestly not sure when it will ever come down and it's hung so that it can be taken down and not damaged. Maybe one of my children will want some or all of it in their child's room. :) It has 48 different drawings.
Go to
Kelly's Korner
blog to see other great Children's Rooms!