For
Foodie Friday
today, I thought I would post one of my summertime favorites - Okra. Not deep fried like you get at most restaurants, but real homecooked, southern fried, okra.
Start by washing and cutting off the ends of your okra. Then slice your okra into good bite sized pieces, remembering that they will shrink a little while cooking.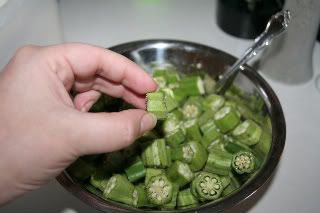 Coat in just a few spoonfulls of flour with salt and pepper to taste. You don't need much flour, just enough to keep the okra from sticking together. Start with a couple tablespoons and stir and then add more one tablespoon at a time until you have enough.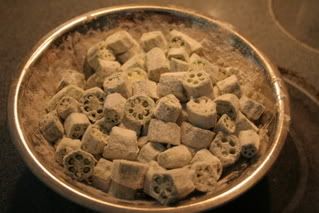 In a small, non-stick skillet, add about 2 Tablespoons vegetable or canola oil, more if you're frying more. But remember, you're not deep frying it, you really are steaming the okra.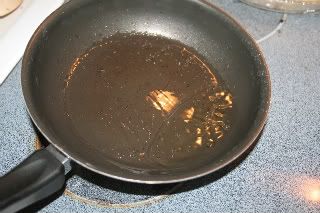 You want to choose the size of your skillet based on how much you're cooking. The okra should be stacked on top of each other, not spread out in a large skillet. It's better to have a little too muck in the skillet than not enough.
Add the okra to the mildly hot oil, it doesn't have to been hot enough to start frying it. Stir the okra around the oil so that the flour nearly disappers. There really shouldn't be any excess oil at the bottom of the pan. Cover with lid and cook on med-high heat. (On my dial of 1-9, I cook mine on around 6-7).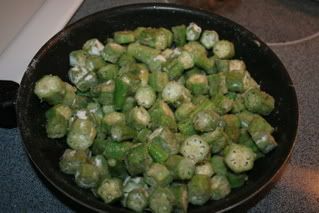 Remove the lid about every 5 minutes and stir. You want the okra to cook even and not get too crisp on just the bottom. You will notice the okra becoming softer as it cooks.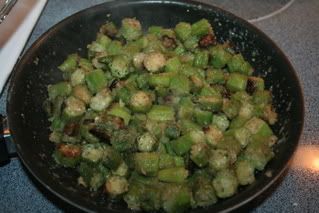 When all the okra is soft, you can remove the lid and fry a little longer for some of the pieces to crispin up. But becareful because it doesn't take long for it to go from crisp to burnt. The secret is to cook it slow and long. If you rush it by turning up the heat to much or adding to much oil, you'll just get burnt little pieces of okra. Remove from the heat and put in a serving dish when it's ready. It will continue to cook a little after you remove it, so don't over cook it.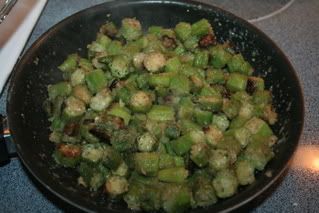 I can't wait for the okra to start coming into the farmer's market in the next couple weeks! We'll be eating lots of okra the next couple months!