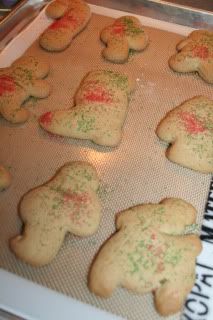 This is my favorite sugar cookie recipe for cutting out shapes with cookie cutters. It makes a really nice dough and is fun to do with the kids.
Ingredients:
3 1/4 cups all-purpose flour, sift before measuring
1 tsp baking soda
1/2 tsp salt
1/2 cup butter, room teperature
1 cup granulated sugar
1 egg
1 1/2 tsp vanilla
1/2 cup sour cream
Directions:
Into a bowl, sift together the sifted flour, baking soda and salt. In a mixing bowl, cream butter, sugar, egg and vanilla with an electric mixer. Beat for 2 minutes. Add sour cream and half of the sifted dry ingredients; beat 1 minute.
Stir in remaining dry ingredietns with a wooden spoon. Divide dough in half and roll each portion out on a lightly flour surface to 1/4" thick. Cut with floured cookie cutter. Place cookies on greased cookie sheet.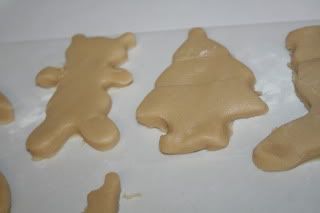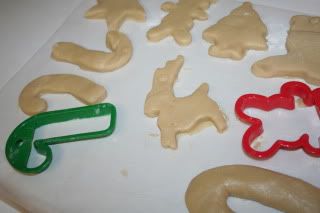 Bake at 400 degrees for 8-10 minutes. Do not overbake or they will not be soft, which is the best part. Store soft sugar cookies in an airtight container.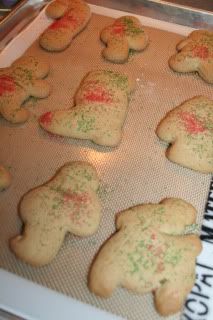 My boys added red and green sprinkles for Christmas! But I use this recipe for all seasons. They are great for Easter or Halloween cookies too.
For more great recipes, visit
Foodie Friday
and
Tempt My Tummy Tuesdays
!