Today's post is pretty short and simple, but I wanted to show my boys trees. They are really nothing fancy, but each have ornaments that they like and they are simple little Christmas touches to their room.
I have just small tabletop trees in their rooms, mostly because they are still at the age where they need as much floor room as possible. This is Tyler's tree (my 2 year old). It is decorated mostly with Sesame Street ornaments, Thomas the Train and some other cute little things. You can also see a wooden camel right on the front. That was a gift from our nursery director at church last year. She had her husband get all of the kids ornaments when he made a trip to Jerusalm with our church.
This is Samuel's tree (my 6 year old). His tree has Hot Wheels cars, Mater and Lightening McQueen and Star Wars. Not sure if you can see the rather large black ornament in the front of the tree, but that's Darth Vader my Mother-in-Law bought for him last year. I joked that nothing says Christmas like Darth Vader! LOL And he will plug into the Christmas lights which light up his light saber and he'll make that creepy breathing noise. That really makes a Christmas tree unique - and he loves it!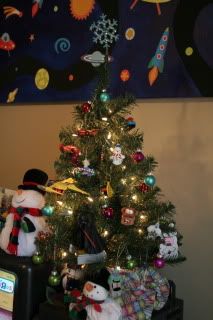 I just added a couple things in the bathroom. I couldn't decide where to put these two Santa Claus items because I have such little Santa stuff since most of mine revolves around snowmen. So when I was trying to figure out what to put in there to add a little Christmas cheer, I thought the bathroom would be a good place. I added the little picture of my nieces family and called it good. I thought about doing another tabletop tree here, but decided that my husband might put me away. LOL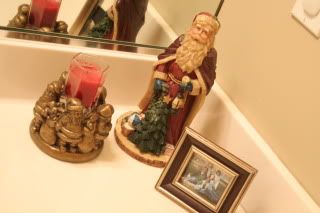 Tomorrow, one last room - my bedroom. To see the rest of my house, keep scrolling.