I am finally getting some of my Christmas Crafts posted! These are all things I've done in the past. I have some things I'm working on now that I'll post soon, but I wanted to share some of my past ideas.
Several years ago, I made about a dozen ribbon boxes to go under my Christmas tree. I hate an empty Christmas tree, both before and after Christmas. It's depressing to me. LOL So back when I had lots of extra time (aka before kids), I made several of these that I use each year. Sometimes we do actually put gifts in them, but I also hide things in them like our Santa hats, so I know where they are but they aren't sitting out.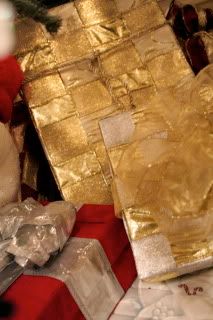 I used different types and shapes of boxes. My favorites are the ones that are already pretty, like this one below that was gold on the bottom. So I used gold ribbon on the top of the box.
I glued the ribbon with a hot glue gun along one short and one long side. I then basically braded the ribbon together, overlaping it as I went along. Then secured it on each side. I topped them off with matching ribbon bows or with tassles.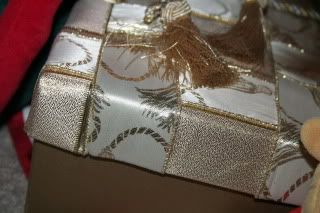 For small boxes, I used the boxes my checkbooks come in. I use tiny ribbon. It takes a while, but I think they are pretty.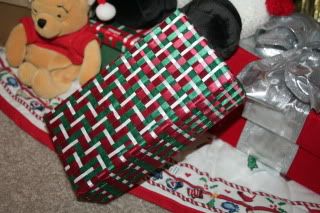 As part of my craft show items this year, I made these hand etched ornaments. I used my Cricut to cut the letters in vinyl and adhired the negative to the ornament. I then used Armor Etching Cream to etch the glass. Add a ribbon and it makes a very simple, but pretty ornament. I've sold several, but plan to also give them as gifts this year to teachers, friends and others.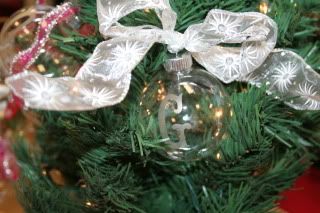 A few years ago, I made this Christmas card holder. I used foam board and cut out the shape of the tree. I stapled on a couple layers of quilt batting. I then wrapped brown material on the bottom for the trunk and stapled it along the back. For the tree, I first stapled along the bottom on the underneath and then pulled it up and wrapped it around the tree and stapled along the back. To finish it off, I crisscrossed silver ribbon and stapled it across on the back. As the cards come in, I just slide them under the ribbon.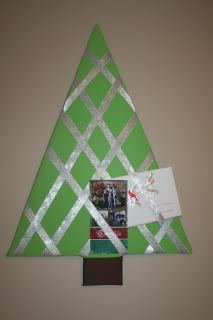 The majority of my Christmas decor is snowmen. After making a similar jar for halloween with a Jack-O-Lantern, I thought I would try a snowman. I used white tissue paper and decoupaged it onto an empty dill pickle jar. I then used different colors to create the design. I use it as a candle holder and it's pretty when the candle glows through it at night.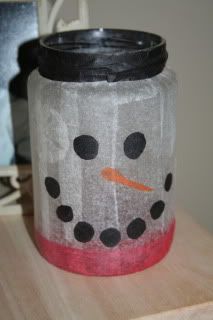 And last (but not least - ha!) I got this idea out of a magazine a few years ago.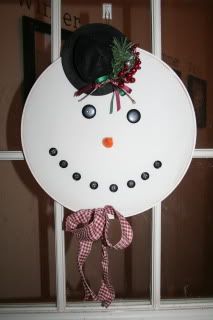 I used a quilting/crouchet hoop as the frame. I painted it white and then stretched white fabric around the hoop. I then trimmed the fabric around the frame. I glued on button, a pipe cleaner twisted into a little carrot nose and a black hat found in the doll section with a little pick spray attached. Here is a shot of the back.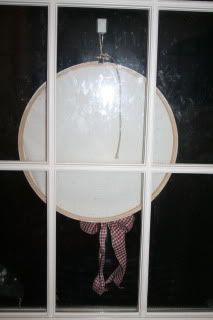 This year I hung it on my door going into the garage.
To see more great Christmas Crafts, check out the
Monthly Craft Challange
over at
Blue Eyed Blessings
!
Check back over the next couple days, I'll be posting all of my Christmas decorating throughout my home and I'll be hosting a giveaway at the end of the week.