My kitchen holds my other large tree. By large, I mean not a tabletop tree. It is a smaller, 6 ft., narrow tree, but it does the job. Our largest collection of items has to be our M&M collection. We have around two dozen large dispensers, dozens of toppers, ornaments and decorations for several other holidays. So to showcase most of our Christmas items, I started putting up a tree a couple of years ago. It is placed in our kitchen and this window is at the front of the house so it can be seen from the street. This tree has all colored lights and all of the decorations are M&M ornaments, toppers, lights, etc.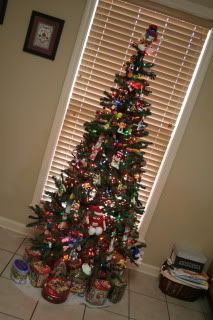 Under the tree are our M&M village tins. I used to put these along the mantel or on the entertainment center, but I like it so much more having it all together in one location.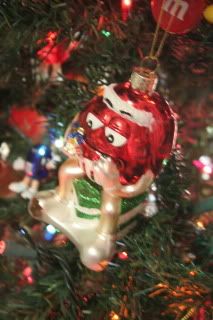 We have collected many over the years and have been given a lot by friends and family. And our boys love it.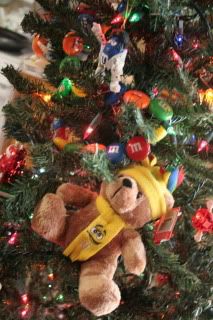 On the counter next to the tree, I have our M&M advent counter and ceramic M&M house. It is actually a Christmas village piece and lights up.
The train toppers that are not ornaments, I decided to put above one of the cabinets this year. They are out of the way of little hands that have trouble keeping away, but can still be seen.