Today I'm going to show my dining room Christmas decorations.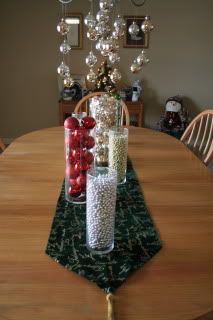 We don't have a formal dining room, this is the table we use for every day. And we also have a very open floor plan. Our dining room is at the front of the house and is open to both the living room and the kitchen on the right.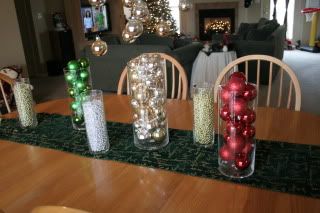 So, any table centerpiece I use, I like to to be easily
movable
. Last year I came up with this idea. Using a
table runner
I had made by a friend, I place the three different sized glass cylinder vases along the runner. The large center vase has small gold and silver ornaments. The medium vases I have red and green ornaments. The four small vases had silver beads in two and gold beads in two. Above the table, I have gold and silver ornaments hanging from the
chandelier
.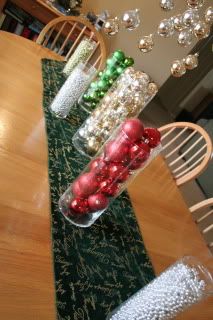 What I like best about the centerpiece is how easily I can change the look. When we have company over, I can easily stretch it out along the length of the table. But for everyday, I simple push it toward the center of the table so that we can use the table space.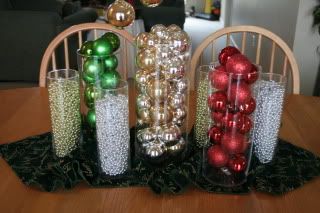 And I can bunch them together even more into a smaller circle. And when we are having dinner, I can just slide the entire thing to one end of the table and afterwards I can simply slide it back into place.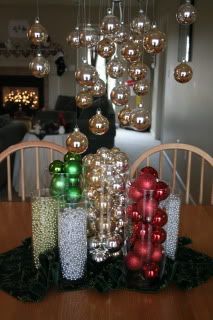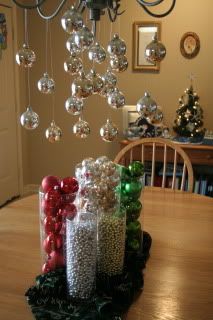 Against the wall, I have my table all in blue and silver.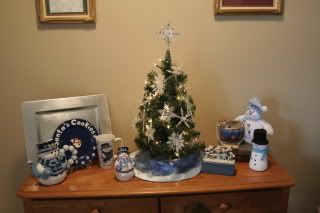 This year I wanted to do something really different. It all started with this silver tray. On a trip wondering through Hobby Lobby (love to do that!), I saw this tray 1/2 off. I had the idea to use it with my Santa's Cookies plate which I also usually pair with this tea pot and mug. After playing with it a while, I came up with this arrangement. Then I pulled together a couple more of my blue, white and silver snowmen items for the other side.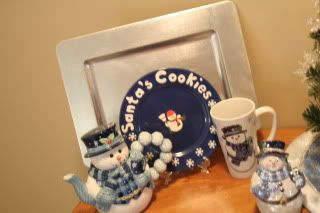 But that left me with a hole in the center. I decided it would be the perfect place for another tabletop tree. I pulled off all of my clear snowflake ornaments off my big tree and added them. I bought the topper and skirt, which I thought was a perfect color match, at Hobby Lobby of course.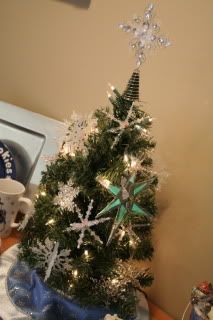 I was really happy how it turned out for only having bought a couple little things to pull it all together.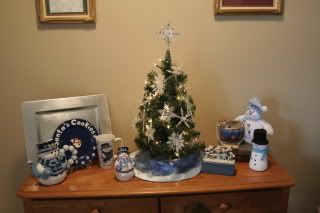 And a couple more little things: A Christmas card holder I made several years ago. You can see my instructions
here
.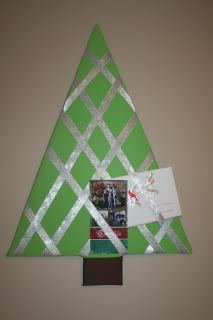 And another of my favorite little snowmen.
Tomorrow I will show my kitchen decorations which is done all in M&Ms.
12/20 - I'm adding this post to
Between Naps on the Porch
's
Metamorphasis Monday
. Click on the Christmas Label below to see all of the rooms in my home and our little touches of the holidays.