This is the first year I've really done much decorating at all in my bedroom. Some years I have used a ceramic tree, you know the ones with the little colored light, but I decided to do something a little more. Not much, but a little.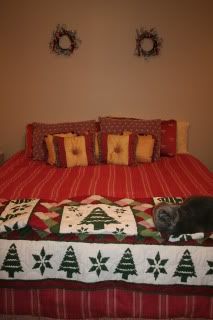 I found this quilt on Black Friday for $18 at Wal-Mart. The colors are a good match for the bedding I already use.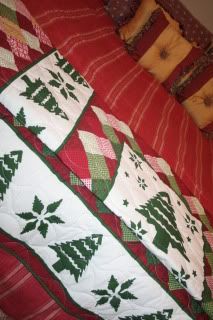 Then I found these wreaths at Hobby Lobby. They are actually candle rings, but I thought they would be pretty hanging above our bed. I found some red and gold ribbon to tie in to the bedding.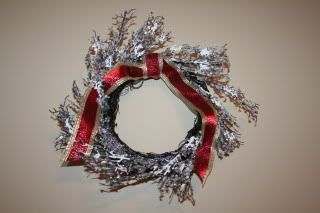 They look tiny in the picture, but they make a bigger impact in person. I'm working on a new painting to go behind my bed, so next year these will find a new home, maybe hanging in the windows on each side of our bed.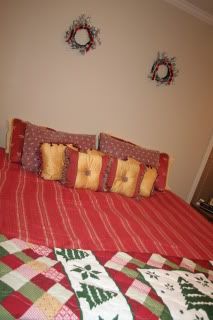 Then I decided to do another tabletop tree. I've had this tree for a couple years, but I've never used it because I didn't like the bottom of the tree. But with the quilt, I thought it would be cute to do a tree with all handmade ornaments.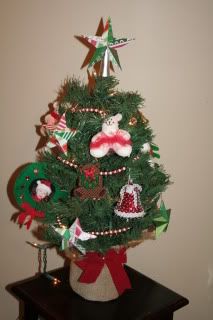 I love these bears! A friend of my mom's made these for me when I was younger.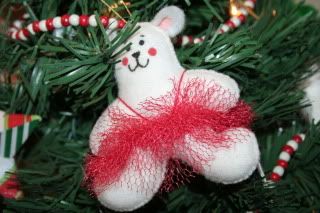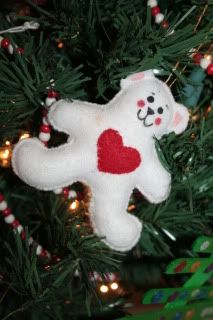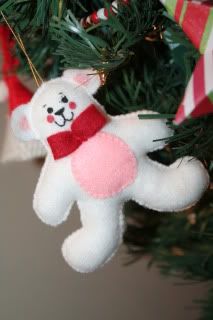 Another friend of my mom's has made me several ornaments like this and my mom has nearly enough to do an entire tree. They are beautiful!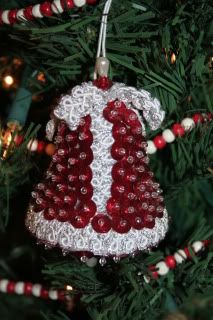 And it gives me a great place to put the little ornaments that the boys have made.