For some reason this year, I've had a lot harder time getting into the Christmas mood. Not so much Christmas as the decorating. Usually I'm excited to get started, but the fall has been so busy for us, I kind of had to make myself do it. As of tonight, I'm officially finished! Yeah! I started the week before Thanksgiving - well sort of. My husband retrieved the boxes from the attic, but up the tree and that's where it all sat for a week while we were at my parents for Christmas. When we returned home, we started hanging ornaments and putting up the decorations. Over the last couple weeks, I've had sick children, had a booth in a 3 day craft show and we lost my husband's grandmother, so a lot going on in our everyday life. So the decorations went up as I had the time. But it's done! I still have some crafts I want to make, but nothing too pressing.
I'm going to start tonight with my living room, the most decorated room.
I LOVE my tree! It's a 10' tree and is really just the right size for my living room and vaulted ceilings. And best of all, it was free. No kidding. Several years ago, my dad went to a yard sale at a friend's house where she was selling this tree for $50. She had paid a couple hundred, used it once and decided it was too big. My dad bought it hoping it could use it. Now, you don't know my dad, so you can't understand the humor in this, but his ceilings are only 8'. I explained that an 8' tree wouldn't fit and he said "I'll just cut it off at the bottom." I said "Um Dad, it's not a real tree, it doesn't work that way." So after some convincing and my insistence and how good it would look in my house, he gave me the tree. It is not pre-lit, but that's the way I like it. We use 10 strands of 100 white lights, wrapping it inside and outside the branches as we put it together from the bottom up.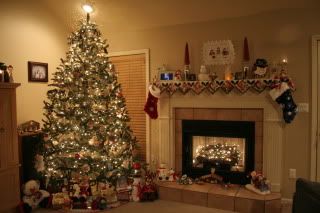 I don't do a themed tree, just a collection of family ornaments, some even from mine and my husbands childhoods. Once the lights are on, I wrap the tree in gold ribbon and drape silver beads along the tree. On the top, I add a gold star with gold spiral twigs sticking out around the the top. I've used this for several years and have thought about changing it, but I still really like the way it looks, simple but very pretty.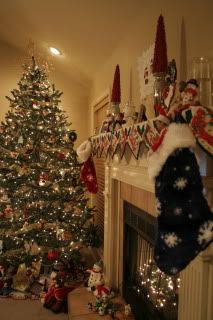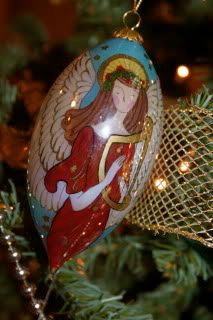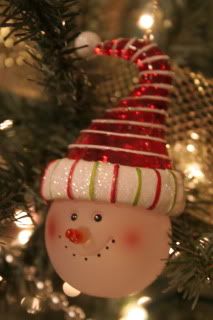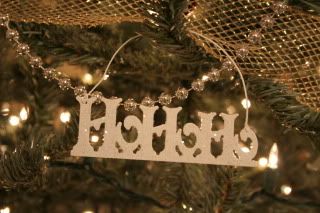 This ornament is from Jerusalem and was given to me by my Aunt and Uncle when I was a teenager.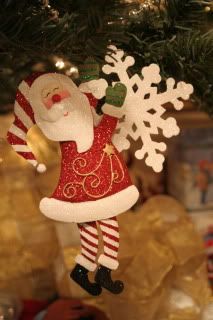 You can't be from Arkansas and not have a few Razorback ornaments! I'm thinking of doing a red and white Razorback tree in the next year or two. It will be small and will probably be in our bedroom.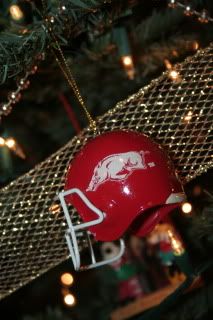 Last year I got smart. I bought our family ornaments and my boys ornaments after Christmas for 1/2 price. They have the same ornaments this year - so it doesn't matter when you buy them, it's just a matter of adding the names and dates. So this year when I pulled them out, I just added or names and dates and hung them. I'll be doing the same probably a day or two after Christmas this year too.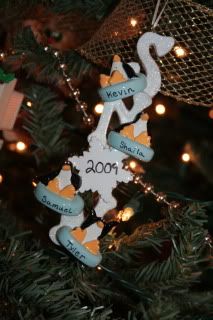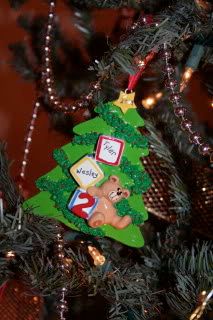 Inside my fireplace, I lay white lights in and around the ceramic logs. The light I use are the ones where you can choose the setting and I set it to one that is twinkling to mimic a fire. If we want to use the fireplace (which we very rarely do), I can pull the light out in a couple minutes. But it give the living room a nice glow.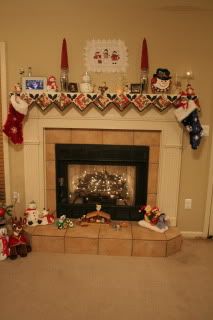 I drape the mantel with this quilt runner that my aunt made me a couple years ago. It was a surprise from she and my mom and it's so pretty. All hand pieced, and a perfect fit seeing that my mom secretly took measurements on one of her visits.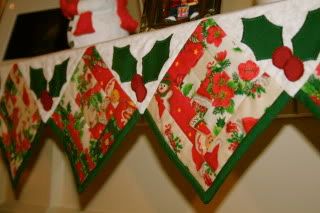 This year I added these candle holders and wax trees to each side of my snowman tapestry that I hang each year. I really scaled down my mantel a lot this year and really like the "less is more" look.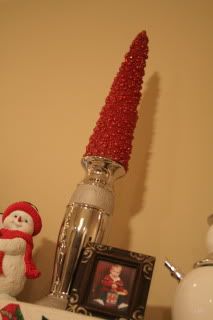 On this particular night, our Elf on the Shelf was also found on the mantel, hanging out in a stocking. If you don't know what that is, Google it, it's a fun idea for the kids. The author comes each year and signs books for our local toy store.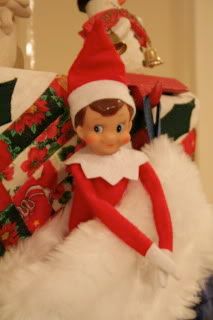 OTHER DECORATIONS

I only added a few little things to the top of the entertainment center, a Snowbabies, my nutcracker and a couple snowmen.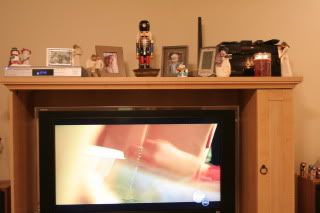 My nativity. The last couple years I've placed it on a speaker sort of hid a little behind the tree to keep little fingers from finding it.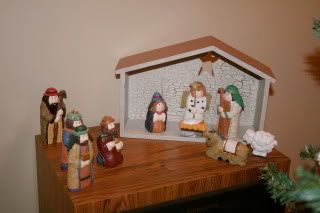 My snowman card holder. This is where I usually display my picture cards so they don't get hid among all the normal Christmas cards.
So that's the living room. Tomorrow I'll be posting my dining room, so come back! I'm also hosting a giveaway at the end of the week, so come back and check that out!