Last weekend we had a family birthday party for the boys who's birthday are exactly a month apart. To make it easier on our families to only have to visit once, we had a small party at our house for both of them. We also invited our closest friends.
After much debate (for myself - the boys could have cared less) about themes, I decided on a bug theme. I used my Cricut to make bugs to top the cupcakes.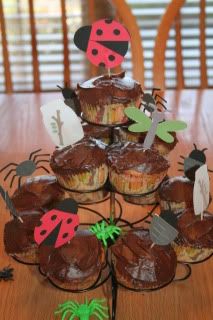 Lady bugs and a dragon fly,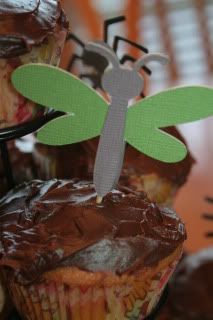 A beatle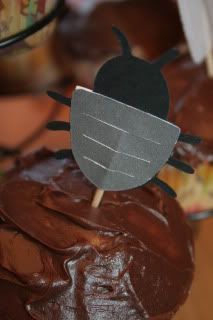 and a Spider.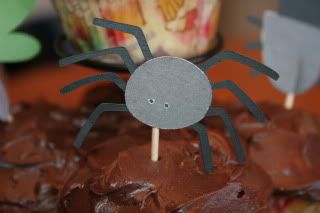 I cut out each shape with the blackout design. Then for each bug, I cut out the detail for both sides and ran them through my Xyron. Between one of the designs and the blackout design, I placed a toothpick. When I placed them on the cupcakes, I placed the toothpick side on the back, but because the design was on both sides, you couldn't see the toothpick, just the pump it made in the paper.
But I think these were my favorite! A bug jar.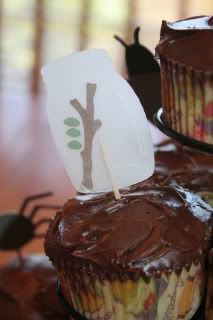 On these, I cut out two jars out of vellum for each of the toppers. Then I cut out only one design. I ran all of the jars through the Xyron. On one each, I placed the little stick and leaves. Then I placed the second jar on top, sandwiching the toothpick between the two jars. These shapes were all on the Doodlebug Cartridge (a really good one to have!).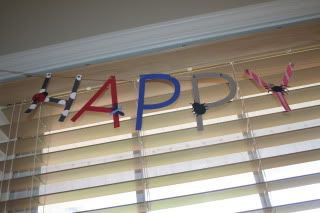 The night before the party, I made up this banner quickly. I cut the letters mostly out of scrap paper, each letter in a different color/pattern. I used yellow twine to string the letters together. To do that, I used small brads, opening them and placing the twine between the brad, inserted them in the paper and then secured them on the back. Some of the letters had to be strung all the way across, others like the B, D, R, etc I cut the twine and attached on each side.
To finish it off, I made the same bugs that I used on the cupcakes and using my Xyron attached them to the letters. For finishing it at 1 a.m. the night before the party, I was happy with the way it turned out. And because I used the removable Xyron adhesive, I can just remove them and use the banner again with something else. For the left over bugs and cupcake toppers - I saved those to use on their scrapbook pages! Embellishments already made, yea!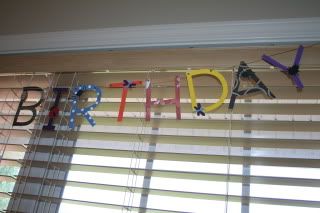 I made the boys matching birthday shirts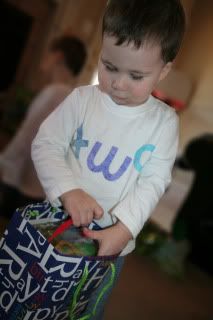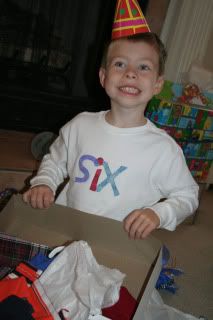 I'm putting together another post about all of the t-shirts I've been making, so check back!