Welcome to Fall!! I love fall! I used to say spring was my favorite, but now it has to be fall. I love the weather, the decorations and all the fun things we do in the fall.
Heidi
is once again doing her Monthly Craft Challange and I thought I would double up and show both some things I've made for my fall decor and show a few other things because I've had very limited blogging time lately.
I made this wreath about 12 years ago for a college class believe it or not. For my feature writing class, I had to write a how to article. So I made the wreath providing step by step instructions and photos on how I made it. I'm pretty sure I got an A. I would post the How To, but that was before very many people had digital cameras and I'm pretty sure the pics are some where in my attic. LOL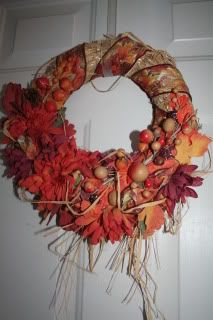 I don't know how or why, but I got this idea several years ago to make this Jack-O-Lantern. I used a pickle jar, covered it in tissue paper and used floral wire for the curlies and the handle across the top. I usually burn candles in it and it looks neat when lit. This would make a good kids craft by the way.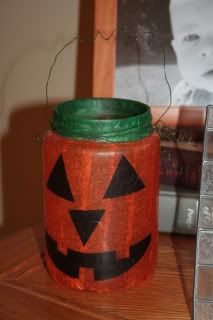 A couple years ago I made this wreath with things I had left over mostly from the other wreath and some other projects. I had some grape vine that I wound into a wreath, glued on some flowers, a little pick and the raffia bow. The only thing I bought was the little pumpkin. It's on my door coming in from the garage.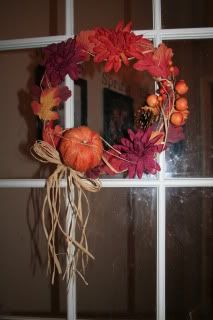 My table centerpiece. I won the three little buckets at Bunko. I filled them with brown shredded paper (like you use for gift bags/boxes). Tossed in a few gords and picks and the scarecrow. I bought some pretty fabric that is sheer with coppor colored leaves and just bunched it up under it all. I've used it now for 3 or 4 years and may change it up next year, but I still like the way it looks.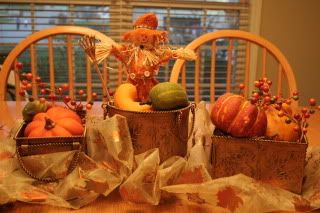 I did not make these, but had to show them. My friend Sebrena made them for me last year. The boys use them for their treat bags.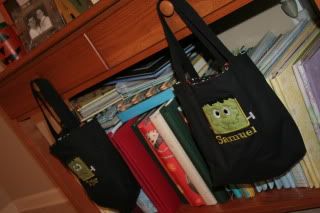 And a little bit more of my decor. I made this arrangement a long time ago and bought the Autumn sign last year on clearance at Hobby Lobby. You can see my little M&M peeking out from behind the picture. We have other Halloween M&M decorations, but I haven't had time yet to get them out.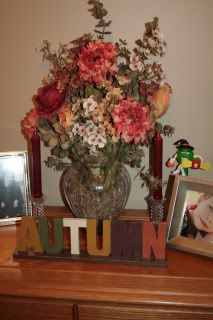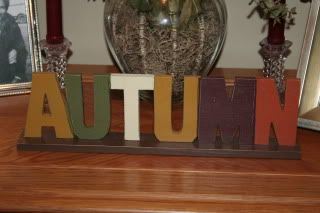 And one of my best friends game me this little pumpkin several years ago. I think it's cute, but more than that, it reminds me of her every year when I pull it out. She moved away around 3 years ago and I miss her like crazy!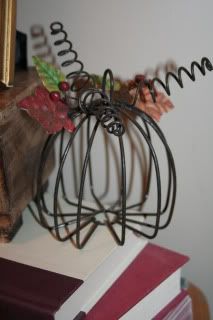 I'll have another post about my shirts later, but I wanted to show the shirt I made for my oldest son for Halloween. He loves it. I used my Cricut to cut out the spider.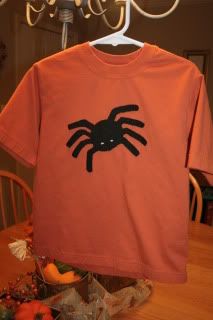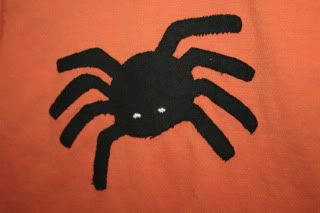 Be sure to visit
Blue Eyed Blessings
for some great Fall/Halloween Craft Ideas!