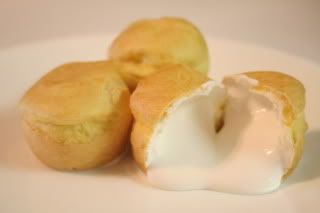 This is a Pampered Chef recipe that looks hard, but is VERY easy! I've made them several times and guest are always shocked that I made them. Often I drizzle them with chocolate, but didn't for this batch.
Here are the ingredients:
Puffs:
3/4 cup water
1/4 cup butter or margarine
1/4 teaspoon salt
3/4 cup all-purpose flour
3 eggs, lightly beaten
Preheat ove to 375 degrees. For puffs, in saucepan, combine water, butter and salt; bring to boil over high heat. Add flour all at once. Using scraper, stir mixture vigorously about 1 minute or until mixture leaves sides of pan and forms into a ball. Remove from heat; place dough into bowl. Add egg and whisk until smooth andvery thick.
Lightly spray mini-muffin pan with oil. using slightly mounded small scoop, scoop batter into cups of muffin pan. Bake 22-25 minutes or until deep golden brown. Remove from oven and make a small cut into side of each puff using small paring knife to release excess steam. Remove puffs from pan to cooling rack, cool completely.
Filling:
1 container frozen whipped topping, thawed
1/2 cup powdered sugar
1/2 teaspoon vanilla (I usually double mine)
For filling, combine whipped topping, powdered sugar and vanilla. Mix gently until well blended using small scraper. Attach a small tip to the end of your decorator; fill with filling and pipe into center of each puff.
For topping, place frosting in small bowl; microwave on high 5-10 seconds or until melted. Drizzle frosting over puffs and sprinkle with chopped nuts. Serve immediately or refrigerate.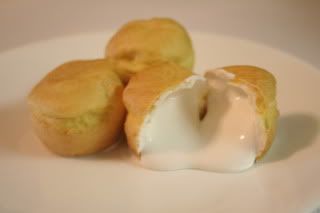 For our halloween party tomorrow night, I thought I might use orange food coloring to tent the filling and green icing to drizzle over the puffs - mini pumpkins?
For more great recipes, visit
Foodie Friday
and
Tempt My Tummy Tuesdays
!