I wish I could make really good, homemade stirfry, but I've kind of come up with my own quick version that I enjoy sometimes for lunch. I like to make this when I have chicken left over from supper the night before.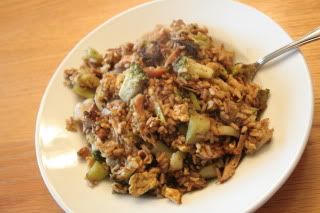 I start with cooking a box of Rice-A-Roni rice, stirfry flavor. While that cooks, I pull the chicken apart into small pieces. Once the rice is cooked, I throw in the chicken and let it simmer. Then in a small skillet, I heat a little oil and scramble a couple eggs.
Once those are cooked, I add in the rice to the skillet and stir often while it cooks. As it cooks, pour in soy sauce - as much or as little as you like. Cook until the rice begins to crisp just a little. Sometimes I also add in a little broccolli. Fresh or frozen, I cook it in the microwave until tender. Then add into the skillet toward the end of cooking the rice. Not quite like my friend from Japan could make, but easy and tasty all the same.
For more great recipes, visit
Foodie Friday
and
Tempt My Tummy Tuesdays
!