I have been blogging like crazy the last couple days, both here and on my
family site
. The fall is always busy for us, so I've been trying to get it all blogged at once! If you haven't been here in a couple days - keep reading...it's all new!!
I had to show the Halloween treat buckets I made for Samuel's class.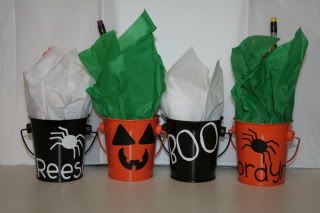 I found the little buckets in the Target dollar spot, 2 in a package. I cut the spider shapes in black and white vinyl, black pumpkin faces, BOO in white vinyl and then each of their names. I then added tissue paper and inside was tucked candy, plastic bugs and a halloween pencil.
Where the name was placed was based on what design was on each one and how long their name was. Some I was able to put on front and others I put the name on the back.
If you have a Cricut and are wondering about the Pumpkin face, I just cut triangles for the eyes and then a moon or crescent shape for the mouth. I then hand cut little notches for the teeth.