We'll pretty much use any excuse to get together and have a party! Friday night we invited a group of friends to come over for an Olympics Watch Party. One of our friends, Meghan, is from Canada and we wanted to celebrate the Olympics with her. This is her in her official Canada Olympics mittens and scarf you saw them wearing throughout the opening ceremonies and on the sidelines during the competitions.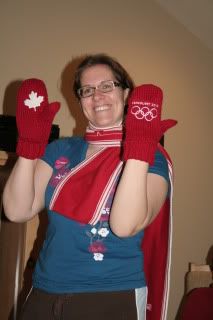 When I thought about what we should do for food, I kept thinking "What is 'Olympic' food?" Wednesday morning it hit me - Food from around the world. So that's what we did. Each couple/person brought something from a different country.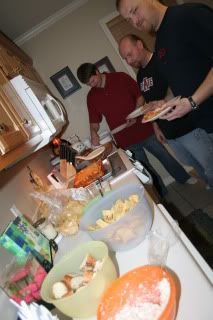 For an appetizer, we had Mexican chips and salsa and cheese dip. We also had Fried Plantains from Cote d' Ivoire, Africa and a great crab dip made by Meghan (she grew up in Nova Scotia which is on the Canadian East Coast).
Our main dishes were Italian Lasagna (trust me, it tasted better than it looks here, the guys were hungry and wouldn't let me get a good picture! Ha!)...
and Sauce d' Arashide from Cote d' Ivoire, Africa.
Four of our friends (all present that night) recently returned from Cote d' Ivoire and Karen made this dish. I really have no idea what all is in it except that it has chicken and a peanut butter sauce. She served it over couscous.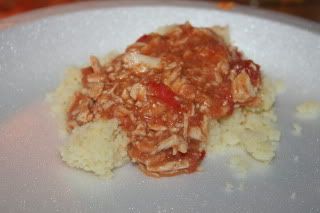 For our bread, we had what else but French Bread!
For dessert, we had Canadian Crepes. They were sooo good!
For more great recipes, visit
Foodie Friday
and
Tempt My Tummy Tuesdays
!