Starting this week, Kelly at
Kelly's Korner
is hosting Weddings for the next few weeks. This week is all about the dress. Visit Kelly is see more dresses!
This will probably be the only week I participate because these are the only 4 pics I have in digital format. So unless I just get froggy and start scanning pics, this will likely be it.
I really did love my dress. And I tried on many! Being from Little Rock, living in Jonesboro and marrying someone from the Memphis area, I had lots of opportunity to visit many different stores. And like any true Arkansas girl, I did spend a day a Lowe's Bridal in Brinkly. But I ended up getting my dress as a well known bridal store here in Jonesboro. It was two pieces, the dress itself and the embroidered and beaded top. I wish I had a picture of the back, it was really pretty with buttons all the way down the top. At one time I could have told you the designer, but that was 10 years ago and I have let that information go to memorize more important things like Goodnight Moon.
I loved my veil too. I found the veil at a bridal store in Little Rock that was having a clearance sale. It was the exact length I wanted and trimmed in lace, but I did not like the hair comb it was attached to. But for $10 who could pass it up! So I removed the hair comb  and made my own head piece. I used embroidered flowers similar to my dress and it turned out great.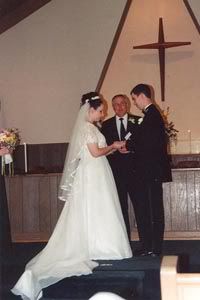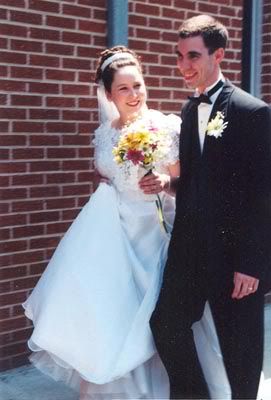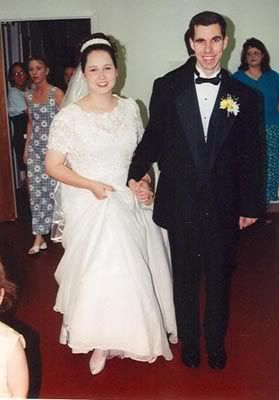 My dress is still hanging in my closet at my parents house. The question afterwards is what do you do with it? I recently heard about a wedding that someone went to where they had both of the mother's dresses and one of the grandmother's dresses on mannequins at the wedding reception, what a neat idea!