I'm linking up to
Kelly's

Korner
for Friday's Show Us Where You Live.
I too live in Arkansas, but on the opposite side of the state in a small city atop Crowley's Ridge.
We are the second largest city in the state in area and the fifth largest in population, but constantly growing. We still have a great deal of agriculture in the area, especially in our surrounding cities with rice and soybeans being the two major crops. (Yes - these really are 2 of our local farmers! This is a photo from the magazine where I work on their farm and our Farmer's Market held in the spring and summer. I work for a local magazine -
Jonesboro
Occasions - and many of these photos are from our publication or my own.)
We also have strong industrial production with major food companies like Frito Lay and Post and green industries are quickly moving in as construction on a wind turbine producer is currently being finished.
We are home to Arkansas State University - the other big university system in the state (don't worry, we're still big Hog fans too!) My husband and I both graduated from here and is where we met.
We are home to the Red Wolves...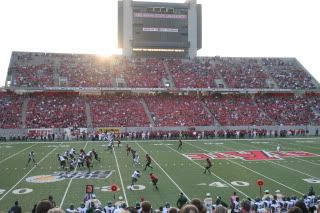 Until 2 years ago, we were the
ASU
Indians, but the NCAA required us to change our mascot or face not being able to compete in tournaments or bowls. So, the Red Wolves were decided to be the new mascot.
When I first moved to
Jonesboro
15 years ago, it had an old, run down mall, very little shopping and only a hand full of restaurants. Wow has that changed! About 3 years ago, a business developer in our town built a brand new mall that has now become a model for many other malls built around the country. It's fabulous and we no longer have to go to Memphis (an hour away) or Little Rock (2.5 hours away).
The kids and I spend way too much time and money here now!
And we now have great restaurants, both local and chains, where we can eat. Especially Downtown...
Like many cities across the country, we too went through a Downtown Revitalization. But ours really worked. Our Downtown is now a destination with little shops, great local restaurants and music...
and Art. We have a great art community including 3 downtown galleries and the community ran Foundation of Arts.
The Foundation has art, music, dance and theatre classes for all ages. It also produces 6 plays/ballets/musicals a year all with community members.
And I have to brag on our Parks & Rec. I say all the time that I think we have one of the best park systems in the country! This is one of our playgrounds at
Craighead
Forrest located just 5 minutes from my house - and basically in the middle of the city. This playground is handicap
accessible
and was built by our Rotary Clubs completely on donations.
Just across the lake is our newest playground, The Fort. There are similar playgrounds, splash parks, community centers and tennis courts scattered throughout the city.
Also just about a 7 or 8 minute drive from my house is Crowley's Ridge Nature Center, an educational building/museum, gardens and trails - a great place to spend an afternoon.
I am from Little Rock, the capital of Arkansas, but I've come to really love this town! The people here are very giving, friendly and while most of the country has gone through very difficult financial times, we've survived basically unscathed. I love raising my boys here!