No, I didn't forget my password or run out of stuff to talk about. Life just got busy and focused in other directions the last couple months.
One of my great desires for the past few months has been to get deeper in the Word of God. I don't mean studies on how to be a better parent
or "woman of God" (although I think there can be time and places for those types of studies), but I mean actual scripture study. What does it say? What does it mean? I feel like I have moved beyond the desire for studies that "apply to my life." I want to meet God. I want to see exactly what He had the authors of the Bible write for us. It was so important that God had them write it down - shouldn't we as believers read it, study it, find out what it means? And if appropriate, see what that scripture means for us today and how it can affect our lives today?
To go deeper, my husband and I moved to a new small group at the beginning of the year that has challenged us in completely new ways. We both grew up in Southern Baptist churches - every Sunday morning, every Sunday night and every Wednesday night. We are well
churched
! But it has been such a reminder that there is so much more to learn and to look at scripture with new eyes - not just accepting it as it has been taught - but looking at it for ourselves. I have also joined a new small group on Sunday night that is also reaching into the word of God. My husband isn't able to do this group with me because he serves in the sound and media booth on Sunday nights, but I have really enjoyed it.
As far as personal Bible Study, I was able to join Bible Study Fellowship in February. I had
attended the very first intro class in the fall, but there is such a long waiting list (especially if you are bringing your child(
ren
) into the program as well) that it took until Feb. for me to get a spot. I was able to do the last several chapters of the Book of John and learned so much about the Resurrection of Christ. It also gave me the great opportunity to discuss it with some incredible women of God.
In March, the publishing company where I worked launched a new publication that I am very excited about and spent a lot of time working on. We had a similar publication before, but suspended it two years ago while our company went through some changes. This spring, we made some changes, revamped it with a slight name change and we are very proud with what we came up with. I wrote 5 of the articles for the publication: the cover story featured two sisters who found through the death of their father a way to reach others with their new
company called
HopeGlass
which makes glass crosses; for our children/youth focus I wrote about two churches who are using Bible Drill to teach their children basic Bible skills; our mission focus was on a local team who went into Haiti just a couple weeks after the first earthquake and have partnered with a ministry to send a team one week a month for the next year; our family focus was on a family who's 4-year-old son was diagnosed with
Leukemia
in Nov. and how their church family has come alongside them to help through this time; and our Leap of Faith (business) profile featured the couple who owns our local Chick-
fil
-A franchise who have grown the store into the top 1% of
CFA's
in the country. We also had a story on local college students who attended Beach Reach
written
by one of our other writers and we also have 3 columns written by local writers. It takes a lot of my time to prepare and write the stories, but I really enjoy it. I felt as a young teenager that God called me to work in some manner for Christian publications, but never had any idea that he would give me that opportunity through a locally owned publishing company (we live in a small city in Arkansas of 50,000 people).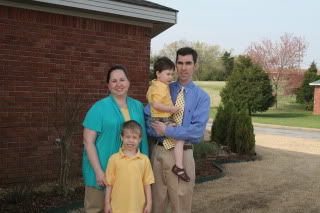 And of course there's my family! I sometimes can feel very overwhelmed with all we have to do and places we have to be, but I realized that I wasn't really enjoying it. I was just living it hoping to get to tomorrow. I have decided to try to really enjoy it in the moment. If that means dishes sit in the sink while we go to the park, then so be it! I currently have 3 baskets of laundry waiting to be folded and put away, but tonight, there was ball practice. Tomorrow there is
Kindermusik
with my little one and a game tomorrow night with my oldest. If it gets done, it gets done, if not, do you think they will remember that? No, but they will remember getting on 2
nd
base and the cute little songs we sing.
So that's where I am. Letting it go, letting God and enjoying it.